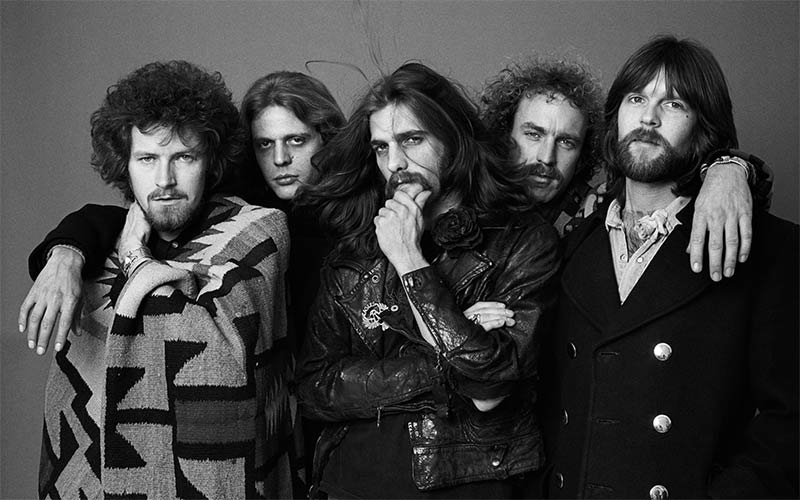 July 31, 1980 – The Eagles perform their last concert at the Long Beach Arena before splitting up. They reunite in 1994. The concert – a benefit gig, no less – is played out amid muttered onstage threats between Glen Frey and Don Felder, who spend the entire show describing to each other the beating each plans to administer backstage. "Only three more songs until I kick your ass, pal," Frey tells Felder.
July 31, 2015 – Lollapalooza Chicago begins in Grant Park with Paul McCartney headlining the first night, and Metallica the second night.
July 31, 1993 – Allman Brothers Band guitarist Dickey Betts is arrested at a hotel in Saratoga Springs, NY after he gets into a shoving match with two police officers. His wife had called the police from a motel after she said Betts became drunk and abusive.
July 31, 2000 – The Mamas and the Papas founder and vocalist "Papa" John Phillips is arrested for funding his drug habit by trading books of stolen prescriptions for bottles of pharmaceutical drugs at a Manhattan pharmacy, then trading those with his drug dealers for cocaine. Phillips is later sentenced to 8 years in prison, but serves only 30 days in jail and commits to a high-profile publicity tour, visiting schools and appearing on talk shows accompanied by his daughter Mackenzie, to talk about the perils of drug and alcohol addiction.
Classic Rock Birthdays
July 31, 1945 – Bob Welch, guitar, vocals (Fleetwood Mac) (d. 2012)
July 31, 1923 – Ahmet Ertegun, founder of Atlantic Records, co-founder of the Rock and Roll Hall of Fame (d. 2006)
July 31, 1957 – Daniel Ash, vocals, guitar (Love and Rockets)
July 31, 1971 – John Lowery (AKA John 5), guitar (David Lee Roth, Marilyn Manson, Rob Zombie)
July 31, 1958 – Bill Berry, drums (R.E.M.)
July 31, 1953 – Hugh McDowell, cello (Electric Light Orchestra) (d. 2018)
July 31, 1978 – Will Champion, drums, vocals (Coldplay)
July 31, 1981 – M. Shadows (born Matthew Charles Sanders), vocals (Avenged Sevenfold)
July 31, 1946 – Gary Lewis (born Gary Harold Lee Levitch), vocals (Gary Lewis & The Playboys)
July 31, 1947 – Karl Green, bass, vocals (Herman's Hermits)
The post CDJ Today: July 31 in Classic Rock appeared first on Classics Du Jour.