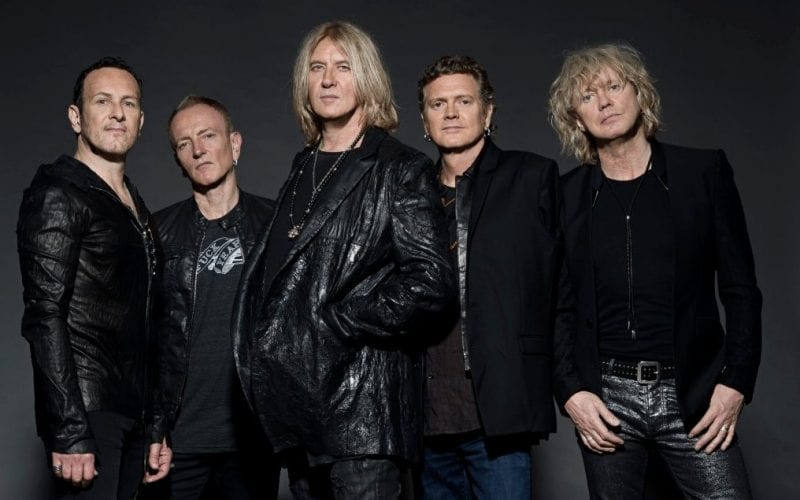 October 14, 1988 – Def Leppard become the first act in chart history to sell seven million copies of two consecutive albums – Pyromania (10 million copies sold) and Hysteria (25 million copies sold).
October 14, 1977 – KISS release their 2nd live album, Alive II. It goes on to sell over 2 million copies.
October 14, 1972 – Adelaide, Australia police arrest Joe Cocker and five members of his band for marijuana possession – they claim to have found "Indian hemp" in his motel room. The musicians plead guilty and are fined $300 each and released on bail. Cocker is later deported mid-tour after outrage from conservative government officials.
October 14, 2004 – Eric Clapton is caught speeding at 134 mph in his Porsche 911 Turbo near Merceuil, France. He is suspended from driving in France. After paying a fine, Clapton poses for photographs with the French police.
Top 15 Best-Selling Rock Artists of All Time in U.S. Sales
Classic Rock Birthdays
October 14, 1959 – A.J. Pero (born Anthony Jude Pero), drums (Twisted Sister) (d. 2015)
October 14, 1946 – Dan McCafferty (born William Daniel McCafferty), vocals (Nazareth)
October 14, 1945 – Colin Hodgkinson, bass (Whitesnake)
October 14, 1946 – Justin Hayward, vocals, guitar (The Moody Blues)
October 14, 1940 – Sir Cliff Richard (born Harry Rodger Webb), vocals, guitar
October 14, 1942 – Billy Harrison, guitar, vocals (Them)
October 14, 1958 – Thomas Dolby (born Thomas Morgan Robertson), vocals, keyboards
Rock Remembrances
October 14, 2011 – Chuck Ruff dies in San Francisco, California, after a long illness. He was 60. Ruff was well-known for his work with The Edgar Winter Group, including the instrumental "Frankenstein." He also played on two of Sammy Hagar's solo records.
October 14, 2006 – Freddy Fender (born Baldemar Garza Huerta), dies of lung cancer. He was 69. Prior to becoming a star, Fender served three years in prison for marijuana possession, but was released early by fellow musician and Louisiana governor Jimmie Davis. Several of Fender's songs charted on both the pop and country charts, which was highly unusual because most of them were bilingual and had Spanish verses or choruses. Fender has a star on the Hollywood Walk of Fame and three Grammy awards. His hits include "Before the Next Teardrop Falls," "Wasted Days And Wasted Nights," "Secret Love," "You'll Lose A Good Thing," and "Vaya con Dios."
Advertisement
The post CDJ Today: October 14 in Classic Rock appeared first on Classics Du Jour.